Highmark Stadium Seating Chart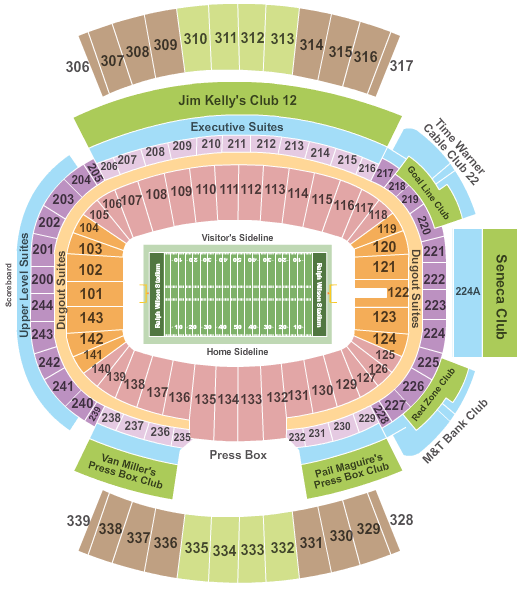 NOTE: Seating configurations can change depending on the type of event. Always check the individual event seating chart when selecting your tickets.
The Buffalo Bills Bench is located in front of Sections 131-136. Where else, the visitors bench is located in front of sections 109-114. However, you should know that as far as the NFL is concerned, the sideline you sit behind does not really matter. In baseball, basketball, and hockey it may change your game experience.
Club Seating at New Era Field is located in the 200 level. As they come with premium prices, fans can expect the seats in these sections to be a bit wider than the rest of the seats at the stadium. Addditionally, there are extra amenities for Buffalo Bills Club Seats. These include exclusive upscale concessions, in-seat beverage service, comfortable indoor lounge area with HDTV's, and private restrooms.
The best seats in New Era Field are located in Sections 131-136, 109-114. These sections are the closest to the 50-yeard line. Also, we strongly advide that you choose a seat after row 10, to ensure you can see the full field at all times. Elsewhere at the stadium, aim for the lowest row possible.
Secure your seat today by purchasing your tickets. Visit the New Era Field schedule to get started.
To view the ticket & refund policy please read the ticket information page.